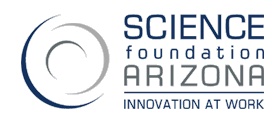 About Science Foundation Arizona
Founded in 2006, Science Foundation Arizona (SFAz) is a 501(c)(3), public/private non-profit organization created from the collaboration of three Arizona CEO business organizations – Greater Phoenix Leadership, Southern Arizona Leadership, and the Flagstaff 40. These CEO groups made a five-year commitment to fund SFAz's core operating costs. Those funds are now raised through corporate and individual philanthropic donations.
SFAz's purpose is to diversify and strengthen Arizona's economy by:
Investing in scientific and engineering areas of greatest economic importance to Arizona
Facilitating strategic collaborations between Arizona research institutions and industry
Supporting effective education in science, technology, engineering and mathematics (STEM)
Attracting and retaining world-class jobs and talent
Make a Donation
Arizonans want a strong economy, a good education system and the availability of high-quality, high-paying jobs. Science Foundation Arizona (SFAz) was established in 2006 as a 501(c)(3) non-profit public/private partnership to address exactly those issues. But we need your support to do it and ensure that we continue to create a better economic future for all Arizonans.
Since inception, SFAz has awarded more than 150 individual grants totally over $110M, which has led to 1,865 direct jobs, 207 patents filed and/or issued, 24 technology companies formed in Arizona and 23 technology licenses in place. Additionally, SFAz's STEM initiatives have impacted more than 385,000 students and more than 10,600 teachers.
If you would like to make a donation to support SFAz efforts or if you would like to learn more about SFAz, click here.